Make a list of ALL of your clients, both current and former.
Which one of these people have not heard from you in a month?  In a year?  In more than a year?
You are missing valuable new business sources if you have ever lost touch with a person you have met in the past, even if you have only lost touch for short periods of time.
There is an old adage – "Out of sight, out of mind."
These are people who can refer business to you or provide new matters to you or your firm.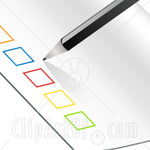 Make a list of these people and start getting back in contact with them regularly.
Rainmaking Recommendations are sent the first and third Wednesdays of the month.  They are bite size tips that, when implemented will cause you to make rain. To learn more about Rainmaking, Goal Setting and Achieving the Life you want as an Attorney please contact Jaimie B. Field, Esq.   Sign up to have these delivered right to your in-box.