What type of law do you practice?  What industry do you target?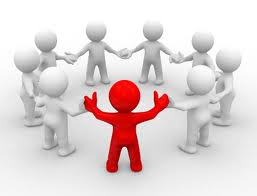 In each area of practice there is a list of people who work in the same in industry who do not practice law.  People like accountants, psychologists/therapists, and other vendors who concentrate on the same group of people/businesses you are trying to reach who will not step on your legal toes.
Create your own ad-hoc networking group.  Gather these people together to meet at least once a month, whether in person, via Skype or conference call, and create relationships with them.  Make sure that each person's business compliments but does not compete with the other.  Each of these people and businesses has the ability to refer more business to you without feeling like they are competing with others who do the same thing that they do for a living.
In addition to referrals, this group can also provide competitive intelligence about the industry you wish to target.
Where do you find this group with which to network?
Search the industry with which you want to work.   Find the publications, magazines, websites that people read to keep up with the industry and see who is writing the articles and advertising in these publications.  Contact them and ask if they would like to be a part of this group to help grow all of your respective businesses.
What's the worst thing that can happen?  They say "no?"  If this happens, there is more than one person who can take their place.
Rainmaking Recommendations are sent the first and third Wednesdays of the month.  They are bite size tips that when implemented will cause you to make rain. To learn more about Rainmaking, Goal Setting and Achieving the Life you want as an Attorney please contact Jaimie B. Field, Esq.
Did you know you can schedule an in-house, customized Rainmaking training workshop for your law firm? begin telephone or Skype individual rainmaking training from wherever you are in the world with Jaimie?
Call or email for more information.