Recently, on many of the social networks which I frequent, I have noticed attorneys asking questions about practice areas in which they obviously do not practice.  Usually this is from a solo practitioner or small firm attorney.  The post inevitably starts with: "I have potential clients who needs . . ." and continues to ask for information that would be basic knowledge for someone who practices in that area on a regular basis.
Stop!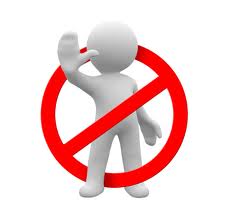 If you regularly practice in Intellectual Property Law you should not be working on a Matrimonial Case!  If you are a Trusts and Estate Attorney you should not be handling a Personal Injury Matter.
What has happened since the recession began is that many attorneys are fearful that if they let that one particular potential client walk out the door, they will not get more clients.  Let me assure you, that this will not happen.
In fact, referring cases in practice areas that you do not have a good grasp on is the best business decision you can make:
When you confine your practice to areas in which you have real knowledge and interest, you can become known as an expert in your field.   Clients will hear of you, and begin to come to you with matters you can truly handle.
When you refer a client in a practice area in which you have no earthly business practicing to an attorney who does, the attorney to whom you referred will try to find a way to refer you business.  If they don't send you business than refer cases to other attorneys in that arena.
When you refer a client to another attorney who can assist them  better than you, the client will come to see you as an advisor.  This is the position you would like to be in as when you are seen as an advisor, clients will refer you to their friends, family and others.
You risk ethical complaints.   When you practice in an area you do not normally represent, you risk not knowing the answers or even ways to find those answers. ABA Model Rules of Professional Conduct Rule 1.1 discusses Competence:  "A lawyer shall provide competent representation to a client. Competent representation requires the legal knowledge, skill, thoroughness and preparation reasonably necessary for the representation".  This usually leads to you not returning phone calls because you are afraid you are going to be wrong.  ABA Model Rules Rule 1.4 talks about keeping clients informed during their matters.
You risk losing clients.  Three things you need to know about clients:
They are not stupid.  Potential clients will search for you on the internet and discover the areas which you say you practice.  Even if it is not at first, they will find someone who can do the job better and faster (which also means cheaper).
They are spending lots of money with attorneys and want to know that the attorney they are working with is the best for their matters.
They will talk to others.  If you botch a case in an area in which you have no business practicing, or if clients feel like they are not being represented well, they tell others.   Negative word of mouth travels a lot faster than positive.
Stop practicing law in practice areas in which you have no business practicing (wow, that's a lot of using the word "practice").  When you concentrate on a area or niche, you have the ability to become known as an expert in that field.  This will lead to more clients and client matters as people who need your particular brand of proficiency will come calling.