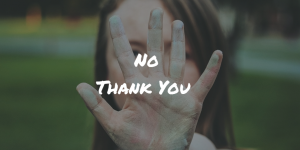 I'm in a facebook group with a lot of really great attorneys.  And recently, there has been a spate of posts which detail the obnoxiousness that some attorneys face with potential clients who are contacting them.
Many lawyers, particularly small firm and solo attorneys, are working with the notion that if they don't take every client who contacts them or walks into the door, they will never get another client.  Even attorneys in large law firms may feel the need to take THAT client. In psychology and the personal development field, this is known as the "scarcity mentality".
After the 2008 recession, many lawyers would take whatever cases they could – even if they had no experience practicing in that area of law.  Without going into the ethical considerations of competent representation (RPC 1.1), many attorneys are still laboring under this scarcity mentality and allow themselves to be retained by anyone who calls – even the hellacious clients.
So you take the client and live through the torture of working with them.
This post is not dealing with withdrawing from representation (that's a totally different post)once you have started working with a client.  In that instance, there are ethics rules you must abide by in order to do so without getting yourself in hot water. This is about the prospective client who walks into your office with a new case.
I'm here to tell you that you don't have to work with them.
Wait! A Rainmaking Coach telling you not to take clients?
Yup!
Not every client is a good fit.
Instead of taking every client who walks into your life, create your ideal client description and find a way to market your services to them.
Create a positive mentality (not Pollyannish).  Believe that the right clients are out there, they just haven't heard of you yet. And again, find a way to make yourself known through your marketing and rainmaking.
And, if one of those wrong clients walk into your life, refer them to someone else – who knows, it may be the right client for that attorney.