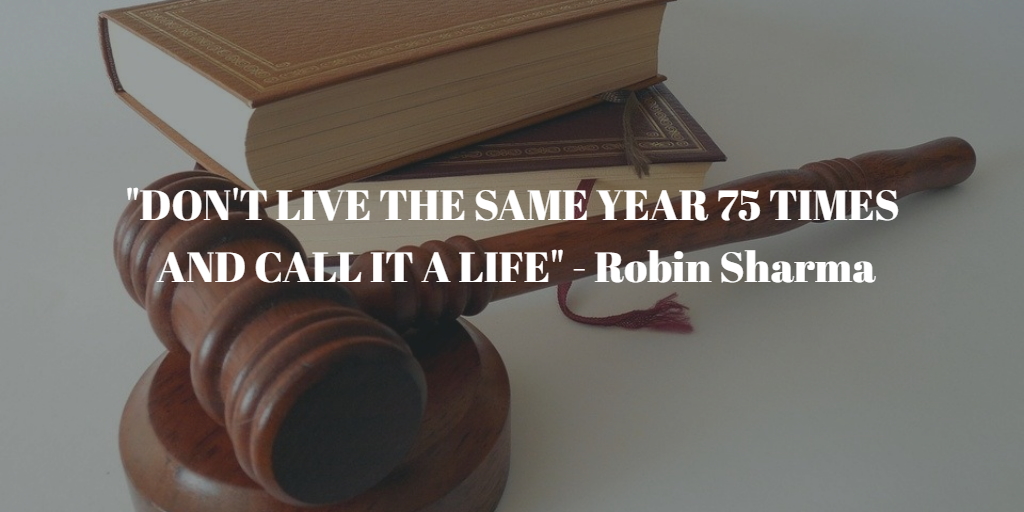 Don't live the same year 75 times and call it a life. – Robin Sharma
I'm going to be a bit in-your-face for this Rainmaking Recommendation and it may piss you off a bit.  But, it needs to be said (and, to be even more honest – I need to hear it myself). What's going to change?  

Most people are living the same year over and over again.  Maybe slight things are going to change, but the statistics show that most people who make New Year's resolutions don't achieve them – in fact, it's usually to the tune of 80%.   And in an OMG moment, I came across an article entitled How Long Do New Year's Resolutions Last? This Is When Most People Quit, which says that the magic date where most people quit on their health and fitness resolutions is January 10, 2020. 
We are three weeks into the year! More than 12 days after that date! Are your resolutions already on the back burner? I believe that all resolutions, whether they are personal or professional goals, are already forgotten because your life has kicked back into "normal" mode after the holiday season.
If you want to change, if you really want to do things differently – whether it is with your health and fitness, or your career and financial lives, or any other aspect of your life – then you have to do it differently from the way you have done it before. 
I have harped on the concept of planning – planning your business and personal lives – since I began my business almost two decades ago. In fact, I cannot tell you how many articles and posts I have written that discuss the benefits of and how to plan on my blog. And, if you Google the term, millions of websites pop up touting the advantages of creating a plan. And yet, I too admit that there are areas in my life in which I have failed to follow the plans I have created.
But, in doing my research I have found out that the reason I didn't follow through with some plans is that there wasn't a big enough "why". I didn't want to change. Specifically when it came to my health and fitness. However, as of this past weekend, I have a big enough reason why I want to change – I want to live!
On Sunday, January 19, 2020, I wound up in the emergency room thinking I was having a heart attack. Turns out, thankfully, my heart is healthy and strong, but cervical radiculopathy (pinched nerve in my neck) was causing the chest pains and the pain radiating down my left arm. Scary –right? But the 7 hours I spent lying on a hospital gurney convinced me that certain changes need to made in order to avoid real issues with my health. And while I eat (primarily) healthy, I am lazy when it comes to exercise. So, now I am exercising.
Forget resolutions (which according to the experts most of us have done so) and start setting goals and make sure they have a deadline. Set your goals for the year and then break them down into smaller pieces that are easier to achieve. Each of these then become their own goals with their own deadlines. But also understand you have to have a "Why?"
Instead of just setting S.M.A.R.T goals – which stands for
Specific
Measurable
Action-Oriented (or you can take an action to move that goal forward)
Realistic
Time-Bound (or has a deadline)
add a Y to that acronym so it now reads S.M.A.R.T.Y. 
The Y stands for both "why" and "you."  If the goal isn't yours or doesn't have a big enough "why", you will never take the necessary actions to achieve it.   The only way you will reach a goal that isn't truly yours is if there is a negative consequence to it.  If your boss says to write this brief or you're fired, then even though you may not want write that brief, you will if you don't want to get fired.  And in my case, my "why" to really begin an exercise regimen is a big one – I don't want to die.    
If you haven't done so yet, start setting your goals.  Please understand that every day is a new day.  January 1st is just a date on the calendar.  You can start today to create your "Enlightened Rainmaking Plan" – and if you would like a free template to help you create that plan or any help at all just ask me.
If you are a mid-level associate who would like to become a partner or a partner looking to become a Rainmaker and are interested in individual coaching but would like to take it for a test drive, schedule your FREE Rainmaking Coaching Session
If you are a law firm leader and would like to discuss bringing a training program or a Rainmaking Seminar (with Ethics CLEs) in-house please email me.