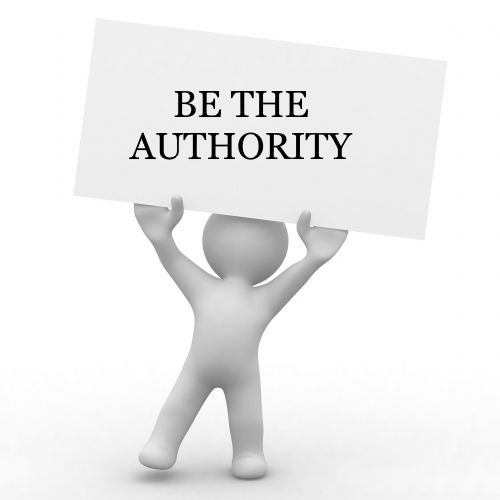 In this last part of the series about how to become an authority, I reiterate the definition that I have come to love:
Authority = Expertise* + Influence
We deconstructed this definition and discussed why you need to become an authority and how to develop expertise*.
You must understand that there are hundreds of thousands of experts* in the legal field. There are attorneys who know the law inside and out; who have become whizzes in their chosen practice area and/or niche. They know everything there is to know and continue to learn more. But, out of those hundreds of thousands of experts* only a few have become known as "Authorities" because they have learned how to develop influence.
Conversely, there are attorneys in the industry who have tremendous amounts of influence but no expertise*. And while they may be contacted by potential clients before the experts* are called, potential clients are not stupid. They will come to the understanding, and very quickly, I might add, that this lawyer doesn't know what they are doing.
This is why you need to have expert knowledge and be influential. And it is also essential not only to be influential but to have expert* knowledge as well. This is true authority.
Influence:
You may have heard about "influencers." These are the people who have significant social media followings and whom brands have reached out to do product placements. And when the influencer posts on their various social media sites, the brand that hired them is seen by many people, translating into sales. Kim Kardashian has been a significant influencer for many years. Just one post on her social media accounts about a product has an immediate impact on the product's sales.
But this definition of an influencer is only one. In the legal industry, being an influencer can translate into potential new clients contacting you; but being an authority – having both the expertise and influence – can translate into many new potential clients clamoring to work with you.
How do you become influential?
Have a target market or niche:
I know, I know; I harp on this point all of the time. It is so much easier to become a big fish in a small pond and then growing the pond into a lake and then an ocean. The more narrowly you can focus your niche, at first, the better you are. Then you can grow the niche into a particular vertical. (See the story of my father, the "Delta Divorce Attorney")

You need to be seen:
Out of sight is out of mind. Pick a social media platform or two, and then show up consistently. Too often, one of the complaints I hear from my clients and other lawyers is that social media doesn't work as a way to get new clients. This is not true. The stories I could tell of my attorneys who have obtained new clients from social media are impressive.
Post Consistently:
While this may seem daunting, particularly with the requisite billable hours held over your head, it is not as difficult as it may seem. Business.com has an excellent process for being able to do so. They call it the 5-3-2 method.
5 of your posts should be written by other people. The topics should contain the content that your ideal clients would want to read. This is called curated content. You can curate content easily using Google alerts, Flipboard, and Instapaper, to name 3 of the hundreds you can choose. The question usually asked is, "why should I post other people's content if I'm trying to create my authority." It is because a) who has the time to create original content all of the time, and b) influencers often share other people's content to become known as someone willing to help their target audience by sharing something useful and valuable.
3 of your posts should be created by you. This is original content that you are providing for your audience. Again, it should be on a beneficial topic to your target market.
2 of your posts should be about you. These are ways to humanize you. This is not just about bragging about your accolades, awards and cases won**, and it's not about providing intimate details of your life. It's about making sure that your target audience not only knows what you know but who you are.
Comment on other people's posts:
Influencers are not selfish. They help other people by commenting and sharing other's posts. And, if you want someone to follow you, you have to follow them. As Jay Harrington wrote, "If you want people to take notice of your content, make sure you're engaging with theirs."
Respond to Comments:
Responding to comments is just common courtesy. If someone has taken the time to comment on your posts, take the time to say "thank you." If they ask a question, answer it. Please be careful about how you respond, as most state bars have ethics rules about what you can and cannot say while doing so. If someone posts a rude comment or says something false, you can respond but be cautious about how your respond because it could lead to ethics violations as well.

Influencers, especially legal industry influencers, will not always garner the number of followers and connections that a celebrity influencer may have, but it's not about the numbers. It's about the quality of your audience. Your audience should be those who can potentially become clients and those who can potentially refer you new business.
The point is – to become known as an authority in your practice area and/or niche, you need to have both expertise* and influence.
*The use of the words expert, expertise, specialist, and specializing may be prohibited by your state's ethics rules. Please check with the Rules of Professional Conduct in your state to ensure you are not violating these rules.
If you are a 4th to an 8th-year associate who would like to become a partner or a partner looking to become a Rainmaker and are interested in individual coaching but would like to take it for a test drive, schedule your FREE Rainmaking Coaching Session
If you are a law firm leader and would like to discuss bringing a virtual training program or a Rainmaking Webinar (with Ethics CLEs) email me.