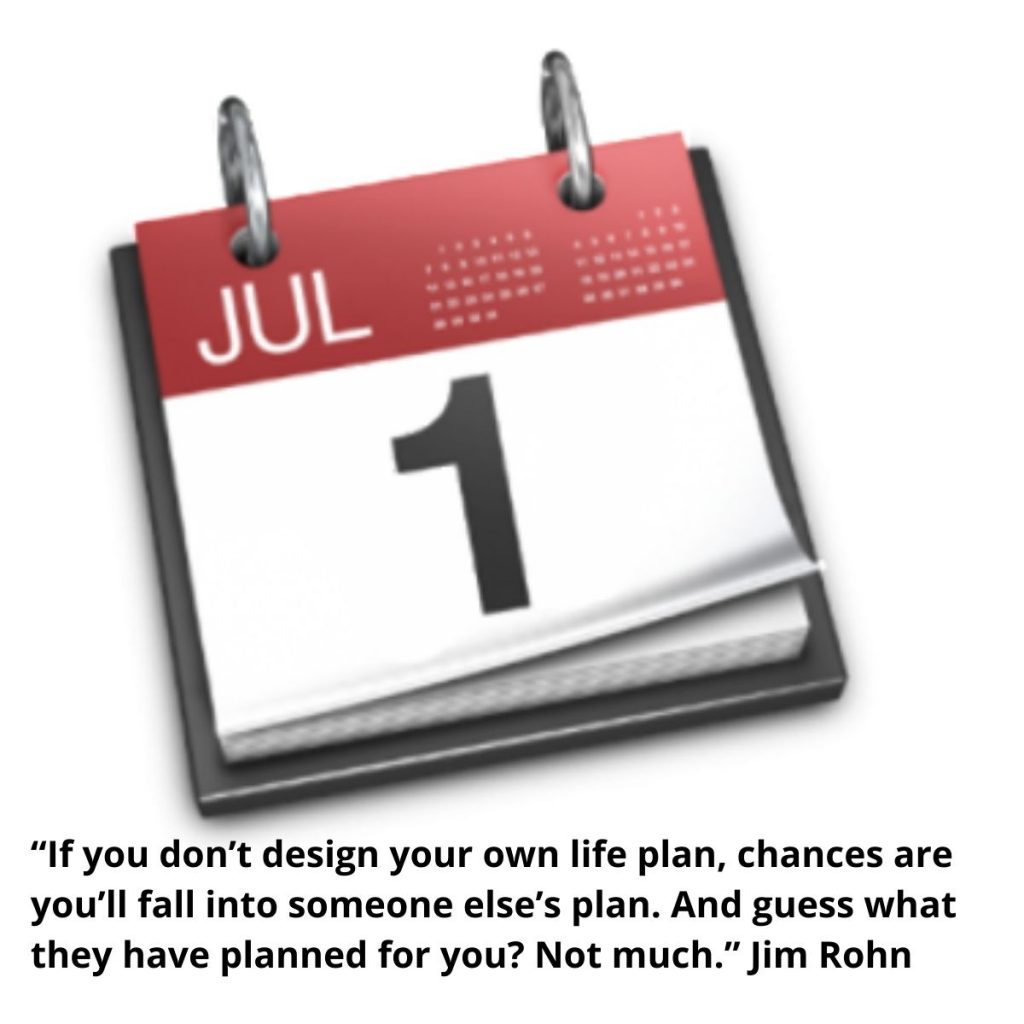 We interrupt the information on Rainmaking Tactics to provide you with this little announcement: THE YEAR IS HALFWAY OVER!
Look at the calendar! Are you as shocked as I that half a year is already in the history books? Granted, the past 16 months have been like none other we have experienced, but still. . .
Tomorrow, July 1, 2021, officially begins the last six months of the year. To be brutally honest, particularly with myself, I haven't accomplished all of the goals I have set out to achieve up to this point this year. I re-read my Rainmaking and Goal plan last night and realized that some of the items on it have fallen into the black hole that is normal life. Some of these include personal goals (like to work out on a consistent basis), and some include my business goals.
The good news: There is still 6 months left to revise your goals and achieve the objectives you would like to complete.
The bad news: If you haven't written a goal plan for yourself and start taking action on the strategies you set for yourself, you are going to wind up at the end of December exactly where you are right now.
Think about that for a moment. You have the opportunity, right this second, to start moving in the direction you want to go. Are you going to take the time to design your practice (and your life) or are you going to let the day-to-day craziness propel you in a different direction?
As Jim Rohn once said:
"If you don't design your own life plan, chances are you'll fall into someone else's plan. And guess what they have planned for you? Not much."
So, to help you achieve your goals for 2021, I am offering a complimentary Rainmaking Training and Coaching Session.
THE OFFER:
If you have never had a Rainmaking Planning Session with me, here is your opportunity. I have 25 appointments available in July and August that I am offering free of charge. During this complimentary 45 minute session, there are three things I promise:
You will learn how to write an easy ,effective and ethical Rainmaking Plan,
You will get at least one Rainmaking Tactic you can use immediately (usually more), and
Absolutely no sales pitch at all.
TERMS AND CONDITIONS  (You know, the boring legal stuff we always include as attorneys):
It is only open to the first 25 Attorneys in mid-size to large law firms (40 or more Attorneys) or Distributed Law firms (fully virtual firms) who respond to this offer by making an appointment using this link.
You must be practicing for at least four (4) years
You must have not received a training session in the past.
The training session must occur between July 1, 2021 and August 31, 2021 and will be conducted by Zoom. 
You must be truly want to become a better Rainmaker and are willing to do the work – I cannot do it for you.  (However, I can coach you on how to create relationships, find the places to meet new clients, and obtain new business.)
(Another special offer for those who have already had a complimentary Rainmaking Training Session, if you would like another session, all you need to do is forward this to a colleague. And, if they make an appointment and use your name as a referral, you will get a new session.)
This offer ends after the first 25 Attorneys who reply or on Monday August 31, 2015 at 5:00PM EDT whichever comes first.