Rainmaking Recommendation #22:  Giving Thanks
In one week (and one day) it will be Thanksgiving.
Thanksgiving was originally a holiday to express thankfulness, gratitude, and appreciation for having been blessed with a bountiful harvest of material possessions, food and relationships. While it has morphed into a day off with tons of food and some good football games, maybe it's time to get back to basics.
Why not take the time to thank those with whom you have worked over the past year – clients, associates and staff.  The fact is that we sometimes take these relationships for granted without even realizing it.
Take the opportunity over the next week to call or email your favorite clients and wish them a happy holiday.   Thank the people with whom you work on a daily basis.  Thank anyone who has ever helped you. When you say "thank you" it makes people feel appreciated.  Appreciated people go out of their way to try to help you some more, leading to more business and referrals.
(While you're at it, don't forget your family and friends.  Thank them for all of their support as well.)
Take time during this season to acknowledge others and it will come back to you.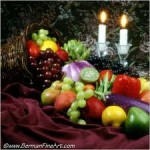 Most importantly, I want to take this opportunity to thank YOU for your support.  I look forward to continuing to help you in any way I can. Please feel free to email or call me at any time.  Your comments are always welcome as well.

Happy Thanksgiving!