Do you want to set yourself apart from every other attorney out there?  Never underestimate the power of the handwritten note.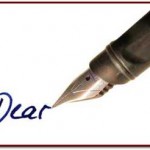 In an age when most communication is taking place electronically – texts, emails, social media, Skype,  phones – rarely do we receive a good old-fashioned handwritten note saying "Thanks for taking the time to meet with me,"  "It was nice to meet you," "Thank you for the referral" or even "I appreciate your business."
Think about how nice it is when you open your mail and you see your name and address handwritten on a card size envelope.   It is usually the first thing you'll open because it is so rare to receive that in the mail nowadays.
Now imagine that you have made someone else feel this way.
A handwritten note says that you took the time out of your busy schedule to stop and care.  How far do you think this will go to engender good feelings in your client's or prospect's mind?
Rainmaking Recommendations are sent the first and third Wednesdays of the month.  They are bite size tips that, when implemented will cause you to make rain. To learn more about Rainmaking, Goal Setting and Achieving the Life you want as an Attorney please contact Jaimie B. Field, Esq. If you would like to have these tips sent directly to your in box, please sign up here.

Did you know you can schedule an in-house, customized Rainmaking training workshop for your law firm? begin telephone or Skype individual rainmaking training from wherever you are in the world with Jaimie? Call or email for more information.