This is an extremely important question to ask yourself.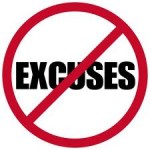 Recently, a couple of my clients have been giving me excuse after excuse after excuse (and that's all they are – excuses) as to why they have not been doing the tasks they need to do to become the Rainmakers THEY have said they want to be.
Becoming a Rainmaker, bringing in new business or client matters is truly a commitment.
It takes work.  In fact, Rainmaking is very simple  . . . but it is not easy.  More importantly, it takes time and this becomes frustrating to many attorneys when they are not seeing results on an immediate basis.
Like any goal you set, you have to commit to its achievement, regardless of how long it takes.   It is like losing weight and getting into shape.  Just saying that you want to lose weight isn't going to make it happen.  You need to start eating healthy and begin working out.   It is truly that simple but it is work.  If you are starting out looking like the Pillsbury Doughboy™, you are not going to turn into bodybuilder overnight.
If you don't know how to be a Rainmaker, find the tools and teachers who can help you.
You can become a Rainmaker – you just need make a commitment to yourself and your career that you are going to do the things necessary to become a rainmaker and then keep doing the work.
(Starting April 2011, the attorneys who signed up to receive the Rainmaking Recommendation in their email have been receiving the current tip two weeks earlier than it is posted on this blog.  This is my way of thanking them for being a part of the group.  If you would like to see the current Rainmaking Recommendation before anyone else, please sign up to be a part of the list.)
Rainmaking Recommendations are sent the first and third Wednesdays of the month via email to a list of amazing  attorneys who have signed up to receive them.    They are bite size tips that, when implemented will cause you to make rain.  Previously the subscribers of the tips and the readers of this blog got the information simultaneously. They are not longer being  posted immediately to this blog.  As stated above, those who are subscribed will have the Rainmaking Recommendation two weeks earlier than those who read this blog.  To get these tips sent to your email before the rest of the world reads them, please follow the instructions for subscribing.
To learn more about Rainmaking, Goal Setting and Achieving the Life you want as an Attorney please contact Jaimie B. Field, Esq.

Did you know you can schedule an in-house, customized Rainmaking training workshop for your law firm? begin telephone or Skype individual rainmaking training from wherever you are in the world with Jaimie? Call or email for more information.