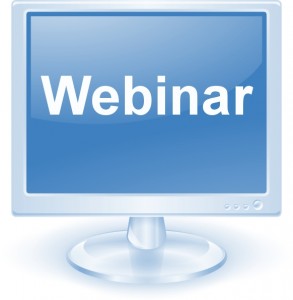 Webinars and teleseminars are a great way to increase your knowledge in your chosen practice area, in business development and in areas in which you are interested.  In fact, a number of CLE providers now offer affordable ways to earn your required continuing legal education credits just by watching your computer monitor.
Webinars and teleseminars are also an incredible marketing/rainmaking tool as well.   Webinars allow you to show case your legal knowledge to a whole group of people who may come to hire you in the future.  For example, if you are a Trusts and Estate Attorney you could do a webinar on why one should always have an updated will.  Providing information in this manner, just like article or blog writing is a wonderful way
Just in case you have never actually attended a webinar – they are presentations, lectures, workshops or seminars that are transmitted over the internet.  Now while many webinars now-a-days are live, they can also be prerecorded for transmission later.
You have to understand – I love the convenience of webinars as well.  I can be at my desk and not have to drive to a location to watch a webinar or listen to a teleseminar.  This allows me to take a quick learning break from my work and then get right back when I am done.   For time management purposes, attending a webinar rather than going to a seminar can be a benefit.
I attend my fair share of webinars.  I am constantly trying to upgrade my knowledge on marketing and rainmaking, social media, SEO, the legal industry, and anything that relates to my business and my clients.  This is something that I suggest you consistently and constantly strive to do.
Now comes the rant!
The other day I attended a webinar by an author/business man I appreciate and respect.  As a member of his email list I enjoy getting his tips and information.  I put them into my practice as often as they apply, and have been using them to help grow my business (as I hope you have been doing with Rainmaking Recommendations).
However, when I go to a webinar or attend a teleseminar I do not want to be sold every few words.  This webinar I attended promised 75 minutes of information.  While the author/business did disclose in his invitation (to attend the webinar) that he would be discussing his own program and why attendees should become involved (for a huge licensing fee plus additional monthly fees) at the end of the webinar, I did expect that the majority of material to which I would be listening would be information which I could use and apply to my business – because that's what I was promised.
Instead of 60 minutes of useful information and a subsequent 15 minutes of sales pitch, I received 11 minutes of information (I actually calculated) and 64 minutes of sales pitch.  The problem was that the pitch was interspersed with the helpful information so I stayed on the entire time.
It was 75 minutes of my life that I will never get back.
Unfortunately this is not the first time.  In fact, this seems to happen on webinars and teleseminars more and more.   And I truly abhor it!  This week it was a business building seminar, last week it was a (supposed) advanced Linked In training webinar (in which I learned nothing new).  Granted, both seminars were offered to the public for free.
As an aside to providers of webinars:  I have nothing against people making money.  You are in business to make money, but be forthcoming about the fact that this is truly only a pitch for your program.   You promised information, instead, you provide a tease and THEN say:  "because we only have a short amount of time I can only give you a little information but if you purchase my program (or come to a long weekend at a remote location for an exorbitant fee – not including airfare or hotel), you will learn how to become an expert in (fill in the blank)".    I appreciate that during a free webinar you are trying to get people to know about your and products/services.  However, in both instances promises were made in the invitations to provide substantial information if I attended the programs that were not met.  Both left me with a terrible taste in my mouth to the point where I have left one of the mailing lists and am contemplating leaving the other.
What I do have an issue with is that the people who are attending your webinars or teleseminars, like attorneys, have very busy schedules.  They are not interested in wasting time on learning about your programs, books, seminars, or products if you promised them helpful information that will help them in their practices.
While I have only provided one webinar for a CLE provider which was totally information based, that webinar has generated interest in the services I provide to attorneys without any overt marketing on my part – and most likely because it wasn't  just a pitch for my business.  Should I begin to provide webinars specifically for my company – which is on the agenda for 2013, here is my promise to any audience members who attend:  There will be no sales pitch at all.
I believe that an audience member, particularly the attorneys out there, who likes the information you provide and the way your personality comes across on screen or over the telephone will contact you to ask about your services or products.
The day of overt sales pitching should be over!  Nobody wants to be sold anymore.
Attorneys:  If you do attend webinars, please make sure that they are not wasting your time. If at anytime it becomes a sales pitch and sales pitch only, log off!
If you decide to provide webinars, don't make the mistake of constantly pitching your services.  Those people who are in need of what you do and believe that you are the person who can help them will contact you directly for your help.
Maybe I am wrong?   What do you think?