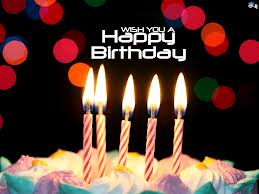 Monday, February 4th was my birthday.  I'm not saying this to get more birthday wishes.
In fact, I received:
183 wishes on Facebook  – to which I responded individually to each person with a thank you,
5 birthday phone calls –  4 of them from my family members,
3 physical birthday cards (I remember when I used to get dozens) – one from my parents, one from a company I frequent with a discount to  use, and one from a rainmaking coaching client with whom I work
And one birthday text.
However, the one that made the most impact was the physical card I received from my client.  Someone who didn't have to remember my birthday made it a point in her schedule to send me a card which made me smile; just receiving it in the mail made me happy.
It's not that difficult to make an impact on your clients which can lead to more good will.  Since you don't  have  to remember their important days, just doing this will make them feel good.  Good will leads to referrals.
And now there are companies out there who will do all of the work for you.  You literally create a calendar of birthdays and anniversaries.  They will give you choices of cards to send, allow you a space to write a personal greeting, and even send an email a few days in advance to remind you when to send out the cards.  Then they send the physical cards out to your list.
Take the time to send a birthday card or an anniversary card.  If you work with corporate clients, find out the month they started their business and send out a card on that anniversary.  You will be surprised at the response you will get both in terms of their gratitude and in terms of referrals.
All information is the copyright of Marketing Field, LLC © 2013
Rainmaking Recommendations are sent the first and third Wednesdays of the month.  They are bite size tips that when implemented will cause you to make rain. To learn more about Rainmaking, Goal Setting and Achieving the Life you want as an Attorney please contact Jaimie B. Field, Esq.  If you have missed any of the previous Rainmaking Recommendations you can find them at www.jaimiefield.com The Enlightened Rainmaker Blog.
If you have received this email from a colleague or friend and what to receive Rainmaking Recommendations to your email, sign up at www.marketingfield.com
Did you know you can schedule an in-house, customized Rainmaking training workshop for your law firm? begin telephone or Skype individual rainmaking training from wherever you are in the world with Jaimie? Call or email for more information.