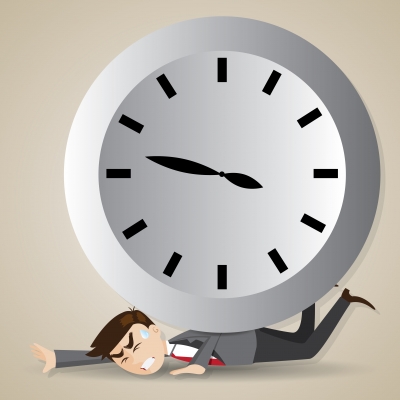 How do you schedule appointments with your clients? Your prospective clients?
Last month, I called to make an appointment for an annual checkup with my doctor.
His staff informed me that I could not make an appointment that was mutually convenient for both of us, but that I had to follow their regimen for making appointments – to wit, I had to take the next appointment that was available the day I wanted to come in. What I mean is that they scheduled appointments in consecutive order for the day and did not deviate from that. So, even though I wanted the last appointment of the day – regardless of how far in advance I was willing to schedule it – I couldn't have it unless all of the appointments for the rest of the day were filled. In addition, they ask that you arrive at least 10 minutes early to fill out paperwork.
When I arrived, early, I went to the front desk to check-in. His staff was busy . . . chatting with each other about binge-watching a particular series on Netflix before the new season started. I waited for about 5 minutes before I was acknowledged, checked in, filled out the paperwork and was told to wait.
Which I did…. for an extra 25 minutes.
While I understand that as a doctor he has emergencies that arise, apparently this was not the case in this instance. My doctor, whom I adore, has one of the best "bed-side manners" out there. He will spend as much time as necessary with his patients to ensure that all of their questions, should they have any, are answered. On this day, he had a patient earlier in the day that was undergoing a procedure the next day and he needed to spend time with her and her family to answer all concerns they had before she had to go to the hospital. I get it and I appreciate his thoroughness. But it caused his schedule to be backed up for the rest of the day.
Listen, my time is just as valuable (both from a monetary standpoint as well as a personal standpoint) as anyone else – like everyone else, I only have 24 hours in a day. And if you think you are more important than your clients then you will soon find yourself having problems with obtaining and keeping clients as your reputation will become known. Particularly since there is the internet where people can tell others how long you kept them waiting.
As a quick aside, I am always early by at least 10 minutes. This was because I was brought up with the idea drilled into my psyche: If you are 10 minutes early, you are on time; if you are on-time, you are late, and if you are late, you are rude.
So while I was getting more and more annoyed by my wait, I thought of the things he (my doctor) and his office could have done differently (and I am suggesting these to you as an attorney):
Make an appointment that was convenient for both of us;
Had his staff (who didn't seem all that busy when I arrived) call me earlier and tell me that he was running late and that I should arrive after my scheduled time by the amount of time he was running late – and don't think you can make this time up by shortening other appointments or half-assing other things you need to do, it doesn't work;
Have his staff call me and ask if I wanted to reschedule;
Had his staff actually explain why he was running late – maybe they could have offered me something to drink;
Not schedule appointments back to back to back but to build in some time for his consultations.
While you cannot be available at every moment of the day for your prospects or clients, you can try to make your appointments as mutually convenient for both of you.
And, if you are finding yourself running late, for whatever reason, you have a lot of things you can do to accommodate your clients.