In many different blogs and Rainmaking Recommendations, I have said – repeatedly, that Rainmaking is about 3 things:
Creating visibility and becoming known as an authority in the field of law that you practice – this is known as Marketing yourself and your services;
Meeting people – whether in person or virtually – who want or need your services or who know people who want or need your services – this is known as Networking; and
Creating relationships in which you are the obvious choice to help them — and this is the Rainmaking part of the equation.
But what I haven't done is talk about each step individually. All three steps are indispensable and cannot be thought of as three separate tactics but as a multidirectional cycle of tactics you need to do on a constant and consistent basis.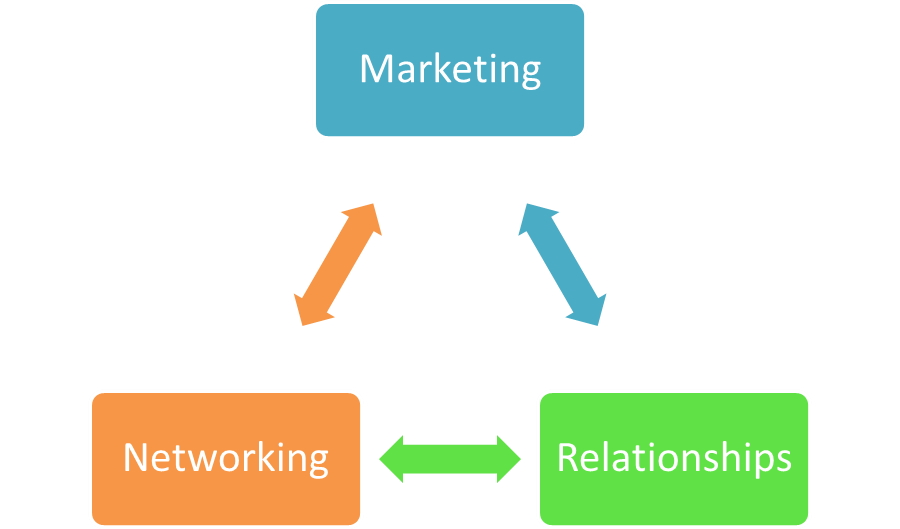 Today's Rainmaking Recommendation is about the marketing part of the cycle.
Marketing
A wise colleague and friend of mine once said: It is not who you know or what you know, it is who knows what you know.
Marketing is about getting others to know what you know. It's about creating your personal legal brand, which is a strategic process. It is proactively taking charge of how people perceive you and managing those perceptions to help you achieve your goals.
And it is about strategy. As I mentioned in the last Rainmaking Recommendation, many lawyers want the quick fix, the overnight success. But creating your legal brand and then letting others know about it is a career-long strategy upon which you are embarking, regardless of where you are in your career.
Think of creating your personal legal brand as a series of steps:
This means determining the person you would like to portray to the outside world. This is not to suggest that you come up with a "persona" or act, or try to be like anyone else. No matter how good of an "actor" you think you are, you will eventually reveal your real self and if it isn't the same as what you have portrayed, you will lose people's trust.
It is about the authenticity of your personality, but that doesn't mean you have to reveal everything to everybody, but you also shouldn't pretend to be something you are not.
Remember, people do business with people they know, like, and trust.
What type of lawyer are you? You have to be clear about what type of law you practice but more importantly, what is going to differentiate you from all of the other attorneys who practice in that same practice area.
Determine who you do it for:
Who are your ideal clients? You cannot be all things to all people and the benefit of creating a list of criteria of who your ideal clients are cannot be understated. In most arenas, this is called target marketing or niche marketing. And in Rainmaking Recommendations 86, 87, and 88 which I wrote almost 5 years ago, I detailed some of the reasons why and how you can go about niche marketing. But let me give you a few other reasons:
You can use the keywords they use to become more attractive to your target market. Every industry has specific jargon that they use, just like the legal industry. So you have to speak their "language" and use the words they would use when creating your marketing.
You can find out where they "hang out" online and meet them where they are.
Also, there is a specific part of your brain called the Reticular Activation System (RAS) that will help you find them. The RAS acts like a spam filter and a search engine combined. We are bombarded by trillions of bits of information per second. The RAS acts as a filter and only presents the information that is important to you. When you program your brain, the world's most powerful computer (when used correctly), with the criteria of your ideal client, all of a sudden all you seem to see is information, people, and companies that fit those standards. News articles appear seemingly out of nowhere. You will be able to meet the right people at the right time. Conversations around those topics will apparently be happening around you regularly. You WILL see your ideal clients everywhere.
Using various marketing tools and tactics, you need to let people know what you know. There are so many marketing strategies you can use. For example, you can:
Speak to your ideal audience
Write articles to be published in your ideal audiences' publications;
Use Public Relations;
Begin Blogging;
Create Videos;
Utilize Live Broadcasting;
Present Webinars and Seminars;
Actively Network with your ideal clients
Create a Referral Marketing strategy;
Join your ideal clients' associations;
Employ Social Media;
And more
And every single one of these tactics can be done virtually while we are still in pandemic mode, and can also be done in-person when the world begins to open up and we can leave our respective safe places.
The final step to creating your legal brand is
Managing and Protecting your Brand
This means consistently and constantly keeping your brand in front of your ideal clients and referral sources. It also means being proactive. If for any reason your brand should take a hit, someone says something bad about you, that you immediately make sure that you can redeem it.
And, you should use your law firm's marketing department to help you create your brand. They are working hard to create a brand for the entire firm and your personal legal brand should dovetail off of it.
But remember, people hire lawyers not law firms – so make sure that your personal legal brand is such that it can stand alone and with your firm's brand.
And two other things you should know, you already have a personal legal brand based on your years of being on the internet and being in practice but, the good news is that you can build or change your personal legal brand anytime you want.
The bad news is that you can also damage your personal legal brand in an instant if you are not in control of it. One wrong tweet, one wrong post, one bad review, and if you have not taken control of your brand, it can be instantaneously destroyed.
So, use this part of the cycle to create, maintain, and protect your brand.  And we will talk about the second part of the cycle, networking, in the next Rainmaking Recommendation.