While not exciting, I'll begin this Rainmaking Recommendation as I have the last three, because I am hoping that this is getting tattooed on your brain:
The Rainmaking Cycle is a continuous circuit that is about 3 things:
Creating visibility and becoming known as an authority in the field of law that you practice – this is known as Marketing yourself and your services (see Rainmaking Recommendation # 222);
Meeting people – whether in person or virtually – who want or need your services or who know people who want or need your services – this is known as Networking (See Rainmaking Recommendation #223 for part 1, Rainmaking Recommendation for part 2); and
Creating relationships in which you are the obvious choice to help them — and this is the Rainmaking part of the equation.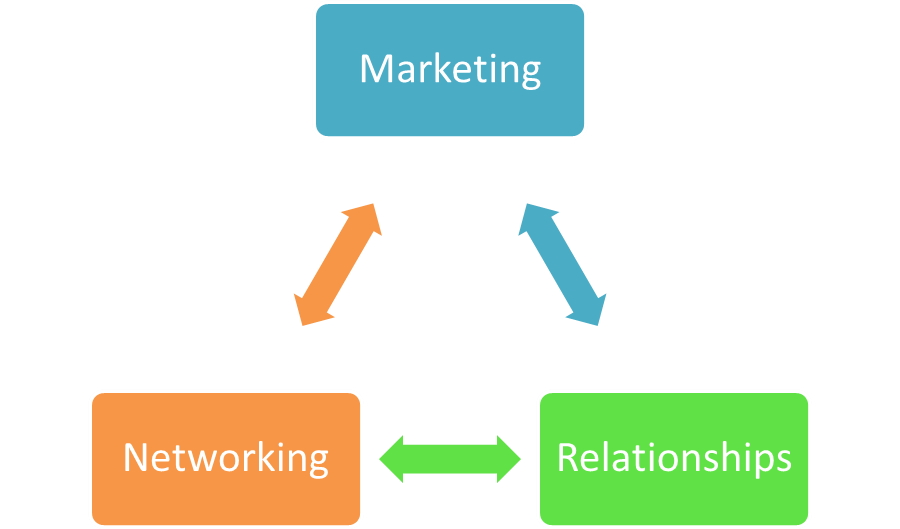 As promised in the last post, part three of the networking piece of the Rainmaking Cycle will provide you with steps on how to break the ice, how to create a conversation, and how to follow up with those with whom you believe you can help as much as they can help you. 
Technology has been a Godsend to us during this pandemic. I can't imagine what it would be like if this was the early 1990's or even the early 2000's when social media, virtual platforms, and other avenues we currently have didn't exist. Back then, in the old days, we had telephones, email, and snail-mail and we had in-person networking.
Now that we are relegated to working from home, you have to get comfortable using technology to meet others – and to be honest, since we have had social media for many years (since 1997 if you go by the history of social media) many lawyers should already know how to do so. But there is a difference between using social media for marketing and using it for networking purposes which I've briefly written about in a previous post.
So, let's concentrate on using virtual platforms to meet potential referral sources and potential clients.
The Virtual Networking Event:
There are a plethora of virtual networking events out there. Associations to which you and/or your ideal clients belong, Chambers of Commerce, and even homegrown networking events are taking place daily. There are fun events like virtual cooking classes, painting classes, mixology, and wine tastings, trivia nights, and I've even been to a virtual networking event that showcased a comedian. You should try to find the ones in which your ideal clients or your potential referral sources are attending.
When you first arrive at a virtual networking event, take a screenshot of all of the people at the event. Since the names of the attendees are usually listed by their picture, this will give you a complete registry of all of the people who showed up at the event. For some events, this may not be necessary as the host may send you a list of all of the people who were present, but just in case, I always take a screenshot and save it.
Breaking the Ice:
Without going into the nitty-gritty of how to log onto any one of the virtual platforms, the question many lawyers ask is how to break the ice when you arrive. Particularly if you go into a virtual event and there are a lot of people there.
In most instances, there will be a host – and you should allow the host to dictate how the networking event is going to proceed. In many cases, they will ask you for your "elevator pitch" or as I like to call it your "audio business card." This is when you take a VERY short period of time to tell the others on the virtual networking call what you do. Specifically, there are three questions your audio business card should illuminate about you:
What you do for a living,

Who your ideal clients are, and

How you can help your ideal clients.
Make your audio business card memorable by using your personality.
After each person is allowed to tell the others what they do, the host will usually use "breakout" rooms to put a few people together so they can get to know more about each other.
Breakout Rooms:
Sometimes, the host will suggest an ice breaker question before you are distributed into a breakout room. This is a great way to start the conversation. However, what I have found is that when you go into a breakout room, there is a need for someone to lead. Much like being in an in-person networking event, each room needs a host – someone to move the conversation along. Be that person – even if you are shy; all you have to do is ask the "break the ice" question to one of the members of the room and then the conversation can get started. And after the first person has answered a question, call on someone else to answer it as well. This will also let you be the last person to answer if you are a self-proclaimed introvert.
If no question has been offered, then one of the greatest questions you can ask of the individuals of the room is:
"Who is your ideal client?"
Then using all of the skills discussed in the last Rainmaking Recommendation just listen for the answers. And then ask follow up questions. Find out all you can in the short amount of time that you will be in this breakout room.
In an average hour-long networking event you will most likely go into 2-4 breakout rooms in which you can get to know the individuals who are attending.
One of the things you will begin to discover is that when you attend more networking events hosted by the same companies, associations, or individuals, the same people are always showing up. This is great. It allows you to get to know the participants and for them to get to know you. But, just going to these events is not enough. You need to take the next step.
Follow Up:
As in any situation where you are meeting people for networking purposes, you need to follow up with the ones you meet on virtual networking events as well.
And yes, you should connect with them on social media; and yes, you could send a "nice to meet you" email, but just those follow-up contacts are not enough. You need to begin to establish a relationship with them that could lead to new business.
Connect with the people you have met and schedule some one-on-one time with them to get to know who they are, what they do, who their ideal clients are, and how can you help them.
Networking is about giving to others as much as you are going to receive. Always make it about others.
We will finish our series next week with a primer on how to create and deepen relationships that will bring in new business. 
If you are a mid-level associate who would like to become a partner or a partner looking to become a Rainmaker and are interested in individual coaching but would like to take it for a test drive, schedule your FREE Rainmaking Coaching Session
If you are a law firm leader and would like to discuss bringing a virtual training program or a Rainmaking Webinar (with Ethics CLEs) email me.